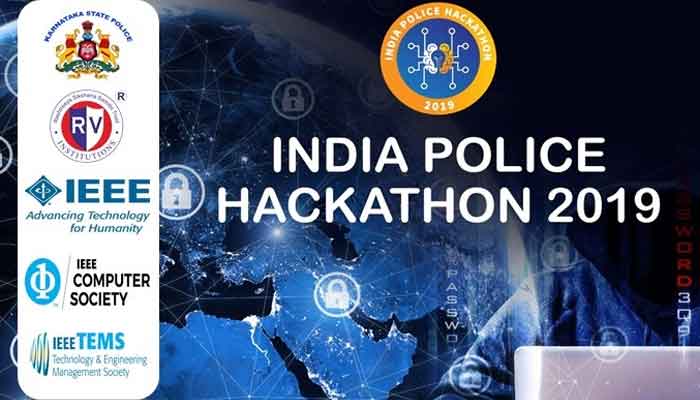 INDIA POLICE HACKATHON 2019
India Police Hackathon 2019 is being organised by Karnataka State Police and co-hosted by RV College of Engineering, Bengaluru, on their campus. IEEE is the Knowledge Partner providing most of the Mentors and Jury.
India Police Hackathon 2019 is scheduled to be on 16th and 17th of Nov, a 36 hour Hackathon. It is an Open Hackathon with no registration fee and online preselection. Around 25 teams of 3 to 5 each will participate in Hackathon, based on Online Preselection.
THE PROBLEM STATEMENTS ARE:
Facial Recognition
MoRTH Data Analytics
Unified Communication App
Centralised Standard Beat Management Solution.
Connecting Online presence  for OSINT and Investigation.
CASH PRIZE of Rs.1 Lakh, Rs. 75,000 and Rs. 50,000 for first, second & third winners.
Registrations open till 12/11/2019 midnight at https://www.ksp.gov.in/hackathon/
CODE FOR POLICE. INDIA POLICE HACKATHON 2019