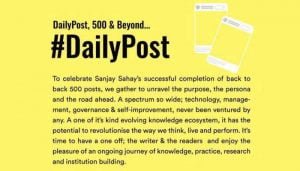 DailyPost 509
CELEBRATION OF KNOWLEDGE
Very rarely has knowledge been celebrated in a manner in this country as it has been for DailyPost, 500 & beyond, today. An audience cutting across professions, sectors and ages is what generic knowledge can do to the community. It's binds the community together which is ridden with all sorts of fissures. Knowledge, R&D and product creation is the future of individual, enterprise and the nation.
How does a product stand out? More so a knowledge product which generally has a dismal readership in this country. A product providing a solution to people, being able to guide and inspire on a sustainable basis, is what attracts one to a knowledge product. It creates a sense of dependence. You get connected to the writer more so in today's social media age. And that might be at times be healing in today's troubled times.
What was humbling was impact from opening minds to creating products. Writers take writing as a dull and drab exercise, impacting only a few intellectuals and that too for intellectual delight. The energy is missing to start with. That it could impact the readers in multifarious ways is beyond the appreciation of the normal writers. The connect with the audience is missing.
When people leave their jobs, take leave and face inconvenience means that writings are making sense to their lives.That is the beginning of trust and when fed with top class reading material, which can be used, it is magic. And that is just the beginning. How it will fan out, nobody knows, but certainly beyond our imagination.
The knowledge community gathered to celebrate DailyPost might be the beginning of the first knowledge community in India. It can propel multidimensional change. Let this movement grow and these communities together usher in a futuristic knowledge economy & knowledge society. Big transformations happen with small event. Knowledge will prevail is a truism which all of us have to fall in line with.
EMBRACING KNOWLEDGE IS THE FIRST STEP TOWARDS EMBRACING CHANGE.
Sanjay Sahay